Girls – get ready to put up a fight!  MasterCraft has taken us out of  the 2014 wakeboarding tour.
An excerpt from the MasterCraft Pro Wakeboard Tour website reads: MasterCraft Pro Wakeboard Tour to Focus Exclusively on Men's Pro Division in 2014.
"The MasterCraft Pro Wakeboard Tour, the largest and most storied professional wakeboarding circuit in the world, has redesigned its format for the 2014 season and will feature only the Pro Men's division at all four events."  

What?  Girls want to wakeboard!
Nautique has a different game plan:  "At Nautique we are all about family. We spend a lot of time with our own families on the water,  states Nautique's President Bill yeargin, and we love the fact that our Nautique events have a heavy emphasis on family."  Nautique will have a Pro Women and Amateurs competition along with Jr Pro Men and Pro Women events.
Check out the buzz…
What a bunch of crap. This can not be good for our sport!
My daughter likes to wakeboard because of watching the women at the Wake Games. Total BS on mastercraps part.
Good thing for King of Wake and Nautique otherwise there would be no events to support our favorite Jr. and Woman wakeboarder
…from the Wakeworld.com forum!
More videos at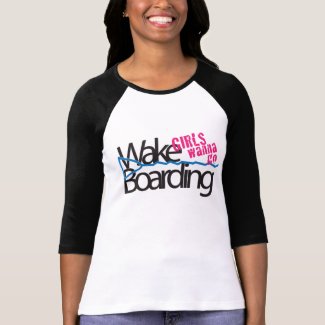 Girls wanna go wakeboarding
by
SeptemberSunshine
  View other
Girls T-Shirts